Michaelston-y-Fedw
Michaelston-y-Fedw is a small (200 residents) rural Welsh community sandwiched between two larger urban towns. Late summer 2018, residents were commiserating about their lousy 2 Mbps Internet connections with no relief in site when a small group decided to fix the problem themselves. They were inspired by the much larger B4RN community network in northern UK. With ideas and minor help from B4RN, they decided to create their own community owned and operated gigabit fiber optic network.
While the community did have a town council, they decided to create an entity outside the council. They created a special company that has both non-profit and for-profit qualities, called Michaelston-y-Fedw Internet CIC, MyFi for short. At the time, the Welsh government was giving individuals a £800 grant towards the construction of a broadband Internet network. MyFi calculated that if they used predominantly volunteer labor, they could use that grant money to entirely fund network construction. A low £30 monthly fee would pay for the Internet uplink and misc. upkeep. In the end, the network cost about £1,250 per connection. They were further subsidized by a £3,000 per business connection subsidy.
And by volunteer labor, I really mean it. The only contractors they hired ran backhoes and boring machines. Volunteers designed the network, laid the conduit, blew the fiber, dug underground connection vaults, and even did the highly technical (but not overly hard, once trained) job of splicing fiber in the field. Volunteers even installed the fiber routers in the houses. Homeowners, however, were expected to dig their own trench to the road for the drop conduit and fiber (some community members organized to do this job on a paid basis).
Investors were sought from the community to put up £150K seed money so that they could order equipment and supplies. The capitalization also allowed MyFi to quickly expand into neighboring small communities.
They additionally kept costs down by repurposing an old 40' steel shipping container into an insulated, air conditioned central office to house the main router and uplink electronics. They used a very cost efficent equipment architecture of acquiring a used Cisco enterprise router chassis and filling it with £10 per connection SFP fiber ports. They acquired a 5 Gbps Internet uplink, which is more than enough for the community size.
Unlike in the US, it is pretty standard in Europe to home run fiber connections directly to each house from the central office. No splitters are used, just a single fiber directly from the CO to the home. So that usually means some form of gigabit Ethernet over fiber, instead of GPON. MyFi used 1000Base-BX, which uses two different light frequencies to have bi-directional 1000 Mbps bandwidth over a single fiber.
MyFi was able to acquire all the right of ways it needed on people's properties near the roads, so no roadwork was needed. When they needed to cross a road, they bored under it. They used microducts from Emtelle for both the bigger backbone fiber cables and the small microducts leading to each house. Here's a picture showing the microducts, one for each house, entering into a splice closure (MyFi calls them splice bullets):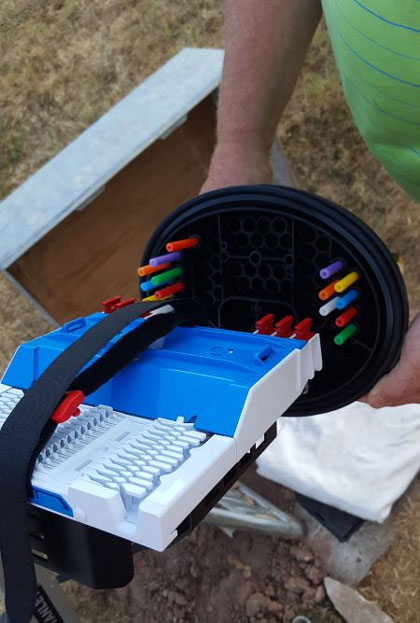 Image source: Michaelston-y-Fedw Internet CIC
The nice thing about this architecture is that it is waterproof. Not only are splices kept waterproof by the splice closures (which is an absolute requirement), but even the fiber cables are kept dry by the microducts since the ducts start and end in waterproof closures.
In addition, this network does not use field connectors. They splice the drop fibers onto the backbone fiber in the splice closures. Field splicing is preferable to field connectors since it is more reliable over a long period of time.
In the final analysis, this was a VERY quick FTTH construction effort (10 months from inception to first service), VERY cost efficient (£1,250 per house, £30 per month for gigabit Internet), VERY reliable, and non trivial network (27 km long). Much more information can be found at the Michaelston-y-Fedw Internet CIC web site.